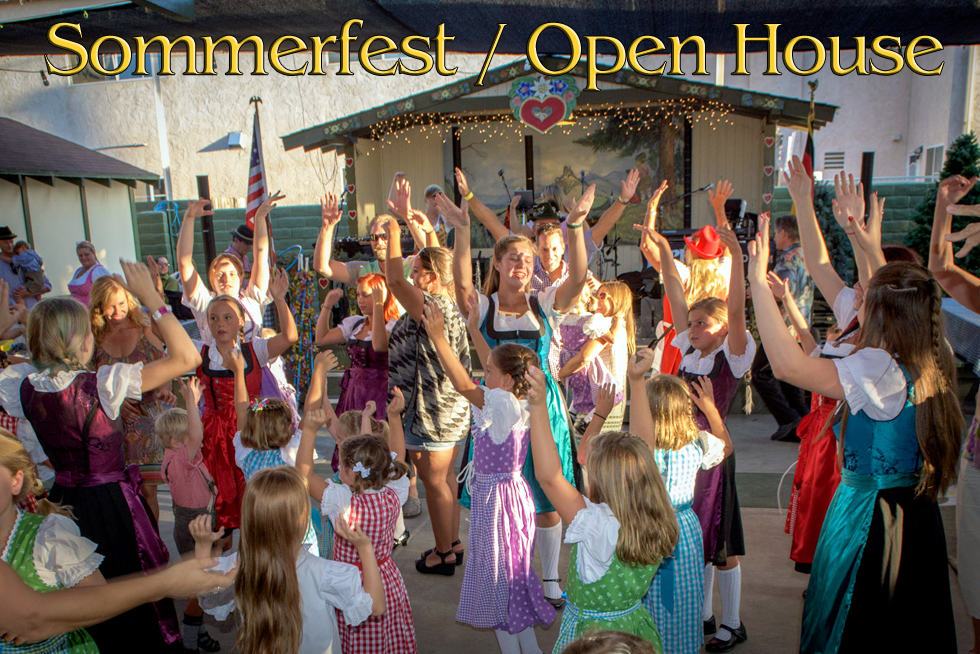 The "Open House" was created by Heidi Williams, business manager of the German American Societies, and was celebrated for the first time in 2004.  It is an event to show off our Clubhouse grounds to visitors and celebrate with our members. The event takes place from 4:00 pm in the afternoon and continues until 10:00 pm. The clubhouse grounds are prepared with extra shade cloth, which makes it especially comfortable to sit at the tables near the dance floor with a cool beer, a Bratwurst, and listen or dance to the music of the old country. Dance music with a live band, Germania Choir, Oktoberfest and Karneval groups each have tables decorated with appropriate décor to present their activities to potential new members, make this outside event one of the highlights of the year. It gives everyone a chance to mingle, talk to old friends, sit at this table or that table, and catch up on each other's news.
Heidi and Willie certainly understand how to make the grounds and the club house gemütlich and inviting. It is a lot of work and requires more helping hands than one might think, but it is an opportunity to meet with old friends over Kaffee und Kuchen, which, of course were also available. Thanks to Heidi and Willie, and all the other hard working, and quite often-unseen people, that makes a day like that possible.
Invitation to the "Open House 2016"
German American Societies
1017 S. Mollison Ave. El Cajon, Ca. 92020
619-442-6637
Our Open House is getting bigger and better each year. Please come to the club on August 20th to enjoy an afternoon and early evening under the stars with family and friends. We hope that advertisements in our local news papers bring guests to us who are interested in other nationalities and their cultur. Come and show them how much fun we have at our club and make them feel at home. They might sign up to be new members!