German American Societies of San Diego invites you!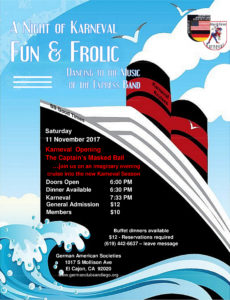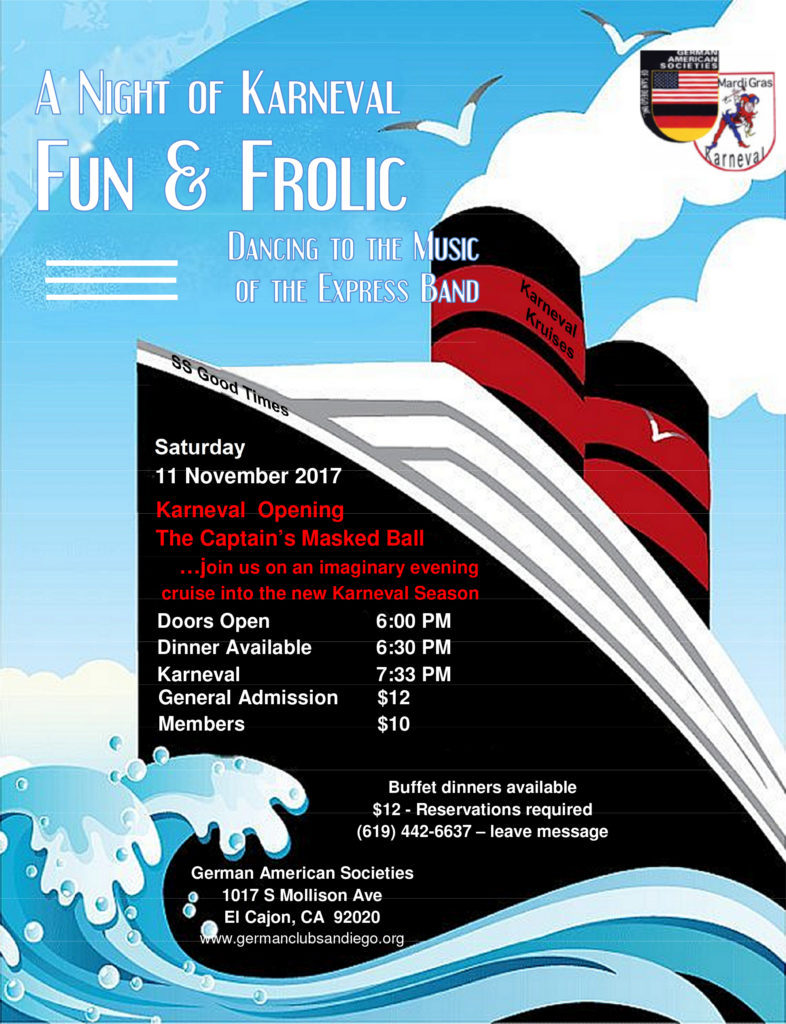 With members from all areas around San Diego we are offering a home with German atmosphere to our many members, friends and the community. Our Club house and our events like Dinner Dances, Anniversary Ball, New Year's Gala, Choir Concerts, and Karneval Events are open to the public. You might know our famous "El Cajon Oktoberfest" and our annual "Sommerfest/Open House" in August! But we have so many more activities for you to enjoy, like Damenkreis (ladies circle),  Karneval (German Mardi Gras), Germania Choir, our Card Game Evenings, and our German Classes on Tuesdays from 5:00 pm to 7:00 pm. Come and enjoy German culture and tradtion with us! Herzlich Willkommen!
A Letter from the President
Hello to all our members and friends: As many of you are aware, the past months have seen a number of changes in our club. Most notable has been the loss of our Business Manager and #1 club booster, Heidi Williams. Needless to say, filling in for the many vital roles she played will be a challenge and take some time. I ask for your patience. In the meanwhile, members of the board and many volunteers from the membership have pitched in to keep things operating smoothly during this transition. Beyond this, there have been other important changes over the past month that I wish to share with you.
1. Because of the health of both Marianna and Bill Roberts, Marianna has resigned as our club president. In accordance with our bylaws (Section 8.4.5), the board has appointed me, Wendel Jenkins, to finish out her term as board president until election.  2. The board then appointed Karl Becker to first vice president to fill my previous position.  3. Marianna has agreed to accept the position of 2nd vice president, vacated by Karl Becker, and the board has so appointed her. With her many years on the board and extensive knowledge of the workings of the club, we are delighted to have her stay. Looking forward, we have several interesting and fun events scheduled for the next two months: • Nov 11 Karneval Opening,  • Dec 9 Member's Christmas Afternoon with Santa, • Dec 12 Germania Choir Weihnachts-Konzert, and • Dec 31 New Year's Eve Gala to ring in the New Year.
Unfortunately, the Snow Dance had to be suspended this year. Still, there should be something for everyone over the next several weeks. Please see the individual event flyers for more details. Dinner RSVP or other inquiries: (619) 442-6637 please leave a message. We look forward to seeing all of you at our upcoming events.
Viele Grüße, Wendel Jenkins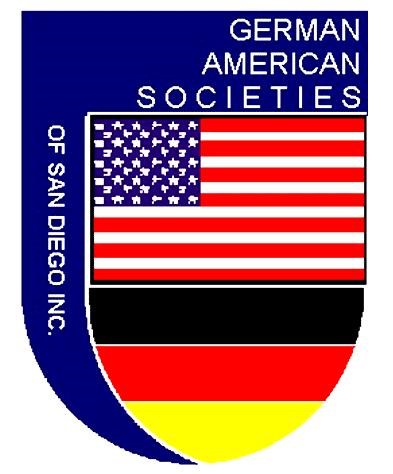 For over a hundred years there has been a German presence in San Diego County, such as through the German Club of the San Diego Turners, who published a German-language weekly as early as the late 1800's. But it was on May 8th, 1965 that a handful of determined Germans started the German American Societies in the Turner Hall.
Read more
Saturday, November 11: Karneval Opening
Music by the Express Band
December 2, Snowdance has been cancelled.
Saturday, December 9: Member Christmas Afternoon, German kids entertain, Santa!
Tuesday, December 12: Germania Choir Weihnachts-Konzert, German dinner, raffle!
Sunday, December 31, New Years Gala, Dinner, Entertainment, Elegant evening,
Music by the Blue Birds Showband
Dinner RSVP or other inquiries: (619) 442-6637 please leave a message
Our Activity Groups and annual Events
Become a Part of our Club
We are always happy to meet and welcome new Members to our Club. If you think that the Gemütlichkeit and Friendship in our German American Societies of San Diego is something you would like to share with us, click on the link to join our membership. Willkommen!