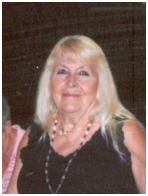 Come and learn German with us here at the German-American Societies Club House at 1017 South Mollison Ave. in El Cajon. I am Erna Duby and I am teaching the class. I have been a German instructor for a long time.
Many years ago, I even used to substitute in Charlotte Evans' German class here at the club whenever she traveled to Germany. Currently, I am still teaching German at Grossmont College. Many of you already know my face, because I have been coming to the club since it opened its doors. I have danced in the "Prinzen Garde" during Karneval for fifteen years. Whether you're planning a vacation to Germany or just want to learn German, we invite you to come by and find out for yourself. You can join us every Tuesday from 5-7 p.m. and have fun learning German. I am looking forward to seeing you at the club.
You can call me directly at 619-447-0302 or the club's General Manager Heidi Williams at (619) 445-2549.
Erna Duby
German Teacher
The German American Societies
Other Recommended German Educational Resources:
AATG S.D. Chapter, www.aatgsandiego.org [aatgsandiegopresident@gmail.com]
Grossmont College, Johannes.bruestle@gcccd.edu
Albert Einstein Academies, www.aeacs.org
Preschool "Rasselbande", www.dierasselbande.com